Miramar Hotel – A Piece of Montecito History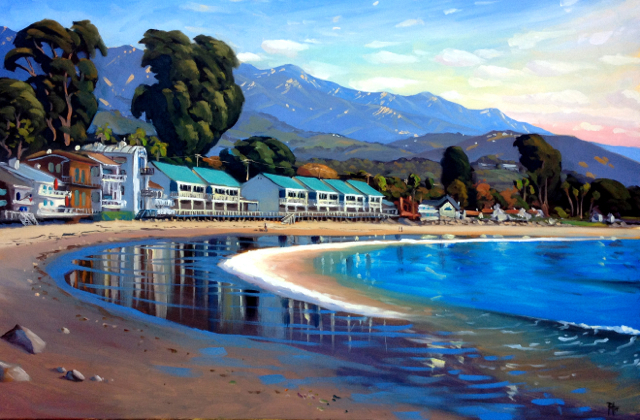 Most recently, developer Rick Caruso has been very busy doing other projects like losing a bid to buy the Dodgers, floating a run at Mayor of Los Angeles, and his latest dream-scheme of building a trolley line through trendy LA neighborhoods, mostly for his customers of the Grove shopping mall.
As of June 2013, the County staff estimated that Miramar By The Sea would being in $1.7 million in property tax, $1.5 million in sales tax and $450,000 in bed taxes when the new 186-room hotel is completed. The The 70-20-10 split is the incentive program which means 70 percent of the county's bed-tax revenues from large new projects will be used for an incentive program, 20 percent for general county programs, and 10 percent for tourism promotion. It was estimated by the Board of Supervisor's staff that this split would would provide $21 million incentive to the developers.
Caruso Affiliated said that negotiations to finalize an agreement were going well until things "broke apart" over a prevailing wage clause in the implementation agreement. When a private developer takes the governments money for a project they are generally required to pay the same higher wages that governments must pay for construction labor.
If Caruso and the country reach an agreement, Caruso plans to search for financing this year, breaking the ground next year, and building the hotel in 2016.
Carbajal and Caruso are optimistic that they will reach an agreement and the hotel will be built.
It's been fourteen years since the famous Miramar Hotel's doors have been open. For these past thirteen years the seaside hotel has sat vacant with boarded up windows and little to no hope of renovations. A black hole of money, several owners have tried to revamp the once five-star resort without any luck. Hotel moguls Ian Schrager and Ty Warner both tried their hand at breathing life back into the Miramar with no results.
The torch has been passed to Rick Caruso, one of Los Angeles's high-end shopping mall creators and Real Estate giants. Having purchased the property in 2007 Caruso and Affiliates have finally started moving forward with their vision January '13. However it seems yet again there is a standoff between County officials and the new owner regarding agreements and California laws. Officials have already granted Caruso a 15-million-dollar tax break on the property, upsetting a number of critics. The Santa Barbara and Montecito community waits patiently to see what the next move will be.
The LA Times describes the resort at its peak before closing, "a collection of cottages and motel-like structures clustered around 13 acres split by railroad tracks that are still in use. It had down-home rates, bicycling waiters who held trays aloft as they pedaled around the property and an air of funky chic that drew famous visitors including William Randolph Hearst, Ronald Reagan and Groucho Marx."
Source: The Independent