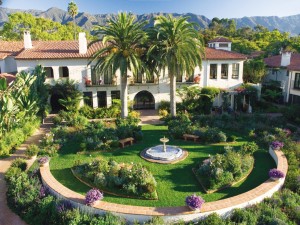 Nestled between the Santa Ynez Mountains and Pacific Ocean, Montecito is home to some of the finest multi-million dollar estates in the world. Made popular by Italian settlers in the 1860s, Montecito was eventually developed at the turn of the century by wealthy Americans. With a population of 9,000, homes range from spectacular villas to cozy beach cottages.
Providing a bold mix of historic and modern properties some of the noteworthy hotels in this area include the Montecito Inn, built in 1927 by Charlie Chaplin and Fatty Arbuckle and the San Ysidro Ranch, (with guests including Jean Harlow, Laurence Olivier and Vivian Leigh, Winston Churchill and Mr. and Mrs. John F. Kennedy) and the Santa Barbara Four Seasons Biltmore.
Montecito consists of two "Villages" (the Lower and Upper) offering fine-dining, high-end boutiques and a variety of services. Annual parades, festivals and school events come and go with the tide, as well as an array of activities to suit any lifestyle. For the adventurous, the Montecito Trails Foundation supports hundreds of miles of maintained hiking and biking trails in the lush mountains above the Upper Village.
Tucked away in the dreamy back woods of Montecito one can find the beautiful Westmont College and Lotusland, a gorgeous botanical garden filled with exotic species of plants. Closer to the Lower Village you can find Montecito Union School, The Music Academy of the West (a renowned music conservatory), Coral Casino and The Four Seasons Biltmore resting alongside the popular Butterfly Beach.
---
Find Your Way Around Montecito
Montecito - Market Stats
National and County-wide news sources are slow and do not accurately represent what is happening in this area. Our Statistics are updated every few days to keep you up to date. Choose an area from the list below to see the latest information!