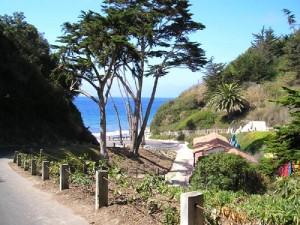 Hope Ranch is one of the most exclusive and luxurious neighborhoods in all of California. In 1861 an Irish sheep farmer, Thomas Hope, bought the land (hence the name) to raise sheep and produce wool for Civil War soldier uniforms. The property was eventually sold to the Southern Pacific Railroad, which marked the beginning development of the Hope Ranch we know today.
Palm tree lined streets, oak studded hills and surrounding a pristine lake, it is no wonder why people from all over are falling in love with this area. This private coastal community is tucked in along the rolling coastal hills just south of Goleta, west of Santa Barbara while bordering Hendry's beach and the Mesa.
Homeowners in the Hope Ranch community can enjoy an array of exclusive activities. A private beach, tennis courts and highly acclaimed Laguna Blanca School are just a few of the perks. The La Cumbre Country Club offers guests a world renowned 18 hole golf course as well as tennis and pool facilities and a five star clubhouse. With stunning views of the Santa Ynez Mountains and Pacific Ocean one can ride horseback along designated trails and enjoy the gorgeous scenery through the oak studded hills leading to More Mesa Nature Preserve and Hope Ranch's private beach.
Consistently providing gorgeous views and park like settings there are a wide variety of home styles found throughout Hope Ranch. Designs range from 20 million dollar mansions and expansive avocado ranches to cozy elegant cottages. Family values are a big part of the community and can be seen first hand at any of the annual events held, namely the Hope Ranch Beach Party. Here you can enjoy summer barbecues, beach cabanas, volleyball and camping. In addition State Street and La Cumbre Plaza Mall are just a short drive away offering top notch shopping, restaurants and hotels.
---
Find Your Way Around Hope Ranch
Hope Ranch - Market Stats
National and County-wide news sources are slow and do not accurately represent what is happening in this area. Our Statistics are updated every few days to keep you up to date. Choose an area from the list below to see the latest information!