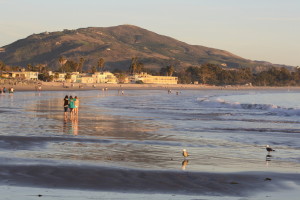 A small and sleepy beach town of around 13,000 residents, Carpinteria is located just 8 miles south of downtown Santa Barbara's hustle and bustle.
Filled with beaches, parks and hiking trails this enchanting Southern California town is perfect for the outdoorsy type. Take a walk along the world's safest beach, surf the world famous Rincon Point or explore the tide pools at Carpinteria's State Beach campground and Tar Pits Beach.
Just south of town are the Carpinteria Bluffs, nature walks and seal rookery also known as the "Harbor Seal Preserve." All three places ideal for enjoying the natural surroundings and at no cost, the options are endless.
Shopping, restaurants and cafes can be found on Carpinteria's main street, Linden, as well as popular annual events. The Avocado Festival, arguably Carpinteria's most popular event, celebrates local agriculture through delicious food and live music. Hop back on the freeway for a short drive to the inland hotspot Ojai where you can take a dip in natural hot springs and experience an array of boutiques and local arts and crafts.
A wide variety of homes ranging from farms to ocean front properties come together to create the charm of Carpinteria.  Vacation rentals are very popular here and one might find more affordable prices and quieter scenic locations than Santa Barbara might have to offer. A vast assortment of both public and private schools and a bustling midtown community center cater to happy and healthy families.
---
Find Your Way Around Carpinteria
Carpinteria - Market Stats
National and County-wide news sources are slow and do not accurately represent what is happening in this area. Our Statistics are updated every few days to keep you up to date. Choose an area from the list below to see the latest information!