With the holidays just around the corner, it's time to fall in love with Santa Barbara! Santa Barbara is the ideal location to share with family and friends, whether for a day or two, a week or even longer for the season. Residents, tourists, residents and snowbirds find the local climate desirable and the community spirit festive through the winter months. Although, winter for Santa Barbara County could hardly be considered "winter."
According to The Weather Channel, Santa Barbara's average annual temperatures  range from a low of 51 to a high of 72 in October, from 44 to 68 in November, and from 40 to 64 in December. December, on average is the coolest month of the year yet our coast experiences many sunny days to enjoy outdoors. Rain, however, would be a welcome event for most everyone as California enters its third year of drought. Forecasters currently are predicting 2015 long-range weather as mild based on historical data with some showers in November. We can only hope!
While the weather is glorious, take advantage of events hosted by local businesses and cities and enjoy all that fall has to offer! Here are a few suggestions to make your fall memorable!
Santa Barbara Botanical Garden events, November 2
Fall is a perfect time to visit the historic Santa Barbara Botanical Garden. Through November 2, it is hosting its annual fall plant sale and its fall wine raffle. Designated a county Historic Landmark No. 24 by the Santa Barbara County Board of Supervisors, the gardens were introduced between 1925-1927 and currently encompasses 78 acres with more than 1,000 varieties of California native plants. As a living museum, collection-based research preserves California native plants and displays them in a beautiful setting. As a botanic garden, the facility holds documented collections of living plants for the purposes of scientific research, conservation, display and education. Visitor services include tours, educational activities, displays, art exhibitions and a variety of forms of entertainment. It is only one of only 30 gardens accredited by the American Alliance of Museums as a living museum.
Veterans Day parade, November 9
In November, be sure to catch the Veterans Day Parade that begins at 12 noon on State Street Saturday Nov. 9 as we honor veterans and active duty military marching alongside vintage military vehicles, WWII re-enactors and an unforgettable fly-over of helicopters and more than 15 classic military aircraft in formation.
Downtown Holiday Parade, December 5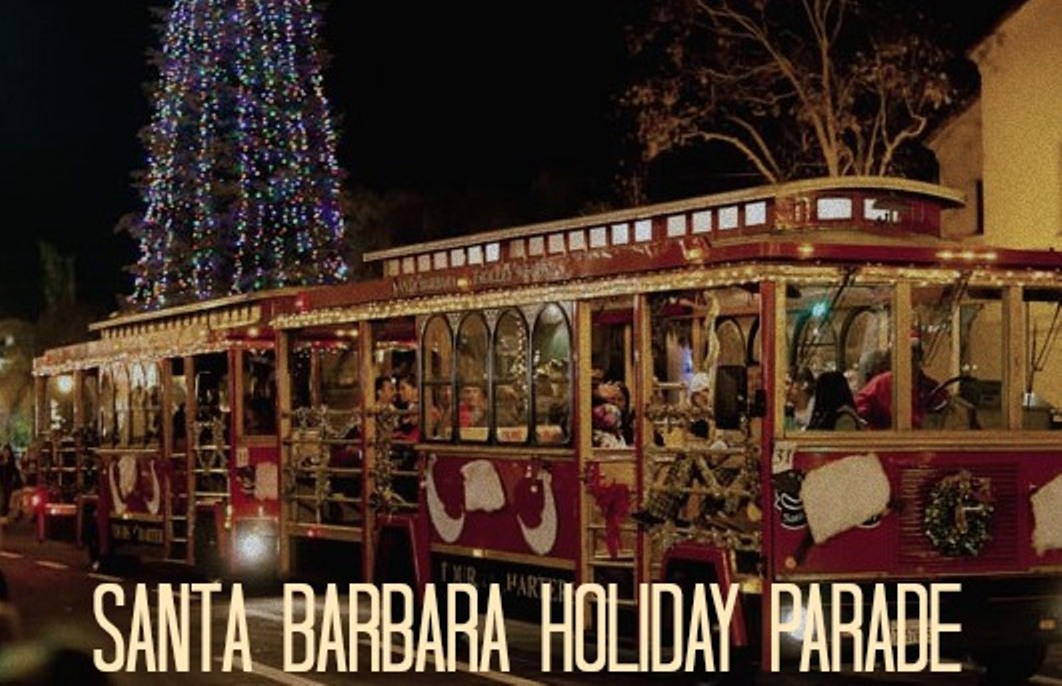 Celebrating its 62nd year, the Annual Downtown Holiday Parade is a community tradition that kicks off in the early evening and ushers in the Christmas spirit. This year's theme, "Winter Nights & Holiday Lights" will feature Grand Marshal Alan Thicke who will welcome more than 50,000 spectators to the sidelines to watch marching bands, fabulous holiday floats, spectacular performance groups, local personalities and the annual arrival of Santa Claus in his sleigh. The parade begins at 6:30 pm at State and Sola Streets and concludes at Cota Street.
Folk & Tribal Arts Marketplace, December 5-7
The largest folk art show in Southern California, the annual Folk & Tribal Arts Marketplace, returns to the Santa Barbara Museum of Natural History with nearly 30 vendors representing more than 50 countries and will feature an incredible selection of baskets, décor, ethnographic art, furniture, jewelry, pottery, rugs, sculpture, and more exotic treasures. Admission and parking are free; proceeds support the Museum's exhibits and science education programs.
Annual Parade of Lights, December 14
Grab a blanket and bundle up and spread a blanket out on the sand to watch the 29th Annual Parade of Lights off Stearns Wharf on December 14. Activities will begin at 3:00 pm with Santa's Village activities on the City Pier in the Harbor. At 5:30 pm, the annual boat parade will feature dozens of boats cruising along the Santa Barbara Coastline. Best viewing locations include Stearns Wharf and SB Breakwater. A fireworks display at about 7 pm will signal the parade finale.
The Nutcracker Ballet, December 13-14
This year marks the 40th anniversary of the Nutcracker at the Arlington Theatre. Presented by the Santa Barbara Festival Ballet, The Nutcracker features more than 70 local dancers, a live orchestra and world-class guest artists. Performances are December 13-14.
No matter what you choose to do, the Santa Barbara Riviera offers a wide variety of things to do, whether you prefer wine-tasting, the performing arts, hiking, shopping, fishing, farmer's markets, sampling fine cuisine and more!